Selecting the item from the server
To select an item from the server
1.    Right click over the OPC Read or OPC Write block.
2.    In the Properties dialog box, under Items, click 

 .
The following dialog box appears if a connection to the server was established: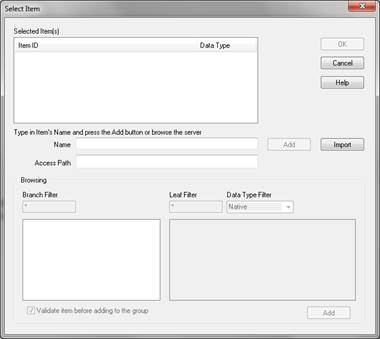 3.    View the selected items in the Selected Items window.
4.    Use the lower left window to browse the server structure, or enter the item name in the Type in Item's Name box and click Add.
5.    Use the lower right window to display items.
6.    Use the Branch Filter, Leaf Filter, and Data Type Filter boxes to narrow the list of names to browse. Most servers support the wildcard (*) character for displaying all names.
7.    Activate Validate Item Before Adding To The Group to check the selected item for validity.
8.    Click Add to add selected items to the list of selected items.
9.    Click OK, or press ENTER.