OS-E: 0400 Compressor Wheel
OptiStruct was used to run a free-free normal modes analysis on a gas turbine compressor wheel solid FE model.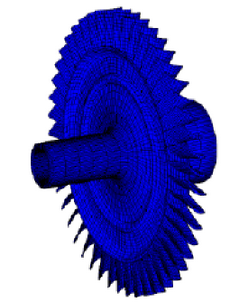 Model Files
Refer to Access the Model Files to download the required model file(s).
The model file used in this example includes:
compressor.fem
Model Description
A solid hexa model of a gas turbine compressor wheel with fins was generated with HyperMesh. The model contained 44,369 grids and 31,022 solid hexa elements. A free-free modal analysis was conducted using OptiStruct to find the first twelve natural frequencies.
Results
The first six frequencies found were rigid body modes and can be disregarded.
The frequency results are:
Model #

Frequency

7

2.46

8

2.46

9

3.33

10

3.62

11

3.62

12

3.83