OS-E: 0405 Pre-load Analysis of Chair Frame
Demonstrates the use of Pre-loading with Normal Mode Analysis. The Pre-Loaded analysis is a type of structural analysis performed on a structure under prior loading (Pre-Loading).
The response of a structure is affected by its initial state and this is in turn affected by the various preloading applied to the structure, prior to the analysis of interest. Here, do a comparison study the normal model analysis, with and without pre-load effect using a chair frame.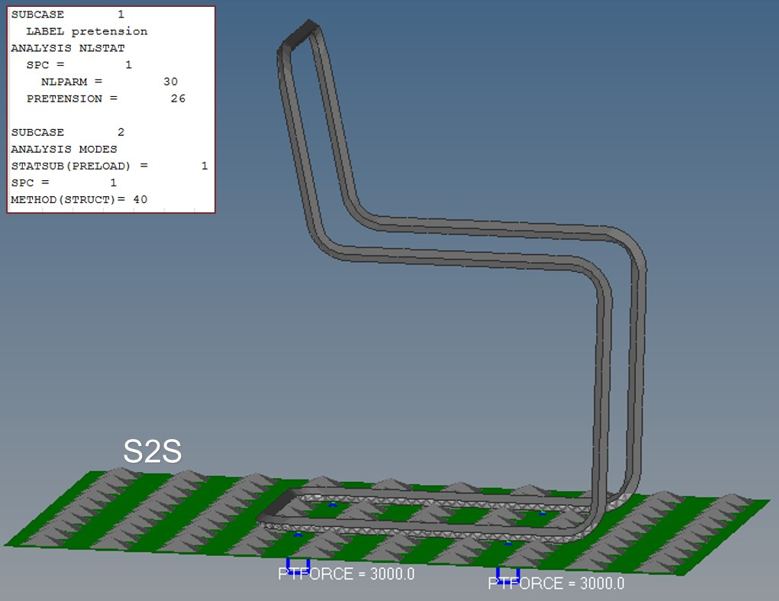 Model Files
Refer to Access the Model Files to download the required model file(s).
The model file used in this example includes:
W_chair.fem
Model Description
This example of the chair frame is solved for Pretension in the first subcase and then followed by a Modal Analysis (with pre-loading).
FE Model

Element Types

CTETRA

CBEAM

CQUAD

RBE2
The linear material properties are:
MAT1

Young's Modulus

2.1E5 MPA

Poisson's Ratio

0.3

Initial Density

7.85E-9 Mg/mm3
Results
In
Figure 2
, the displacement plot from the first subcase (Pretension) and also the Eigen mode from the second subcase (Modal).
Figure 4
shows the comparison of the Frequencies from the Normal Model Analysis, with and without pre-load effect.