OS-E: 2045 Response Spectrum Analysis (RSA) Optimization
This example demonstrates the capabilities of OptiStruct to perform shape optimization with Response Spectrum Analysis Displacement as response.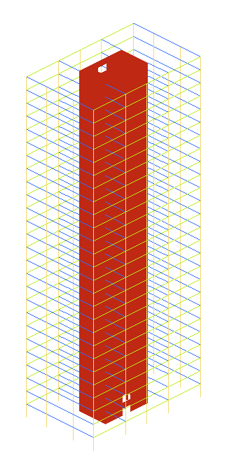 Model Files
Refer to Access the Model Files to download the required model file(s).
The model file used in this example includes:
RSAOpti.fem
Model Description
In this example a Response Spectrum Analysis is performed on a building structure and from this analysis, Response Spectrum Displacement Response is taken as the constrain for performing shape optimization of the building structure.
Objective

Minimize the mass

Constrains

Response Spectrum Displacement Constrain (RSDISP)

Design Variables

Shape Design Variables

Reference Guide Entries

DESOBJ

,

DESVAR

,

RSDISP

,

DCONSTR

,

DCONADD

,

RSPEC
Results