[3] Workbooks and Folders Summary Layout
After logging on to Panopticon Real Time as a user with a Designer role, the Workbooks and Folders Summary layout is displayed.
This is a sample view with a personal folder (i.e., ~designer) and five workbooks.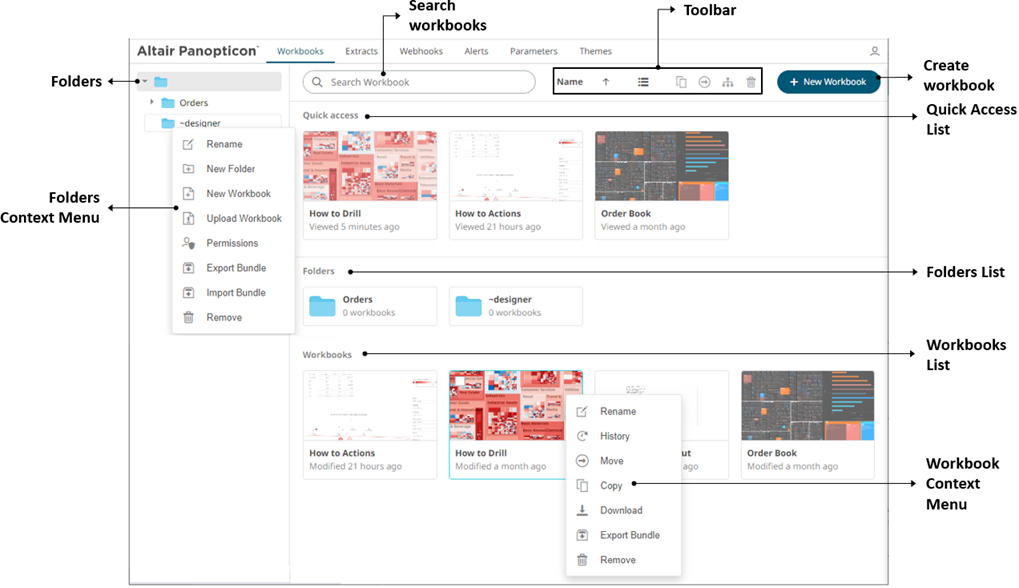 Property

Description

Folders

List of folders where workbooks can be saved or published.

Allows creating, renaming, removing, exporting or importing bundles, and assigning permissions of folders.

Search Workbooks

Entering text will filter the returned workbooks.

Allows sorting, copying, moving, merging, and removing of workbooks.

Also, to display the workbooks list either on List View or Grid View.

Create Workbook

Allows creating a new workbook.

Quick Access List

List of recently opened workbooks.

Folders List

Available folders on List View.

Workbooks List

Available workbooks on List View.

Allows renaming, viewing history and republishing, moving, copying, downloading, exporting bundles, and removing workbooks.