Viewing Data Table Template Usage and Updating the Referring Workbook
Users with an Administrator Role can view and update the workbooks that currently use the data table template.
Steps:
1.     On the List of Grid view, right-click on a data table template then select Data Template Usage on the context menu.
The Data Table Template Usage dialog displays.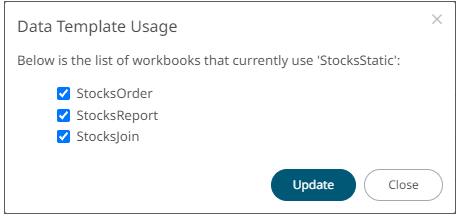 2.     Check the workbook boxes that will be updated based on the changes made on the associated data table template.
3.     Click
.
A notification message displays.
4.     Click
.