Creating Elasticsearch 7.x Input Data Source
The Elasticsearch 7.x connector allows you to connect and access data from an Elasticsearch cluster using Java High Level REST Client.
   NOTE

·         Similar to Elasticsearch 6.x connector but uses Java High Level REST Client.

·         To enable the Elasticsearch 7.x connector, refer to Elasticsearch Connectors Dependency Installation for more information on how to copy the provided dependency files to the Lib folder.

·         The Elasticsearch 7.x connector supports Elasticsearch 7.x versions.

·         Elasticsearch 6.x and Elasticsearch 7.x connectors will not work in a single Panopticon Streams Server instance due to conflicting Elasticsearch API dependencies.

 
Steps:
1.     In the New Data Source page, select Input > Elasticsearch 7.x in the Connector drop-down list.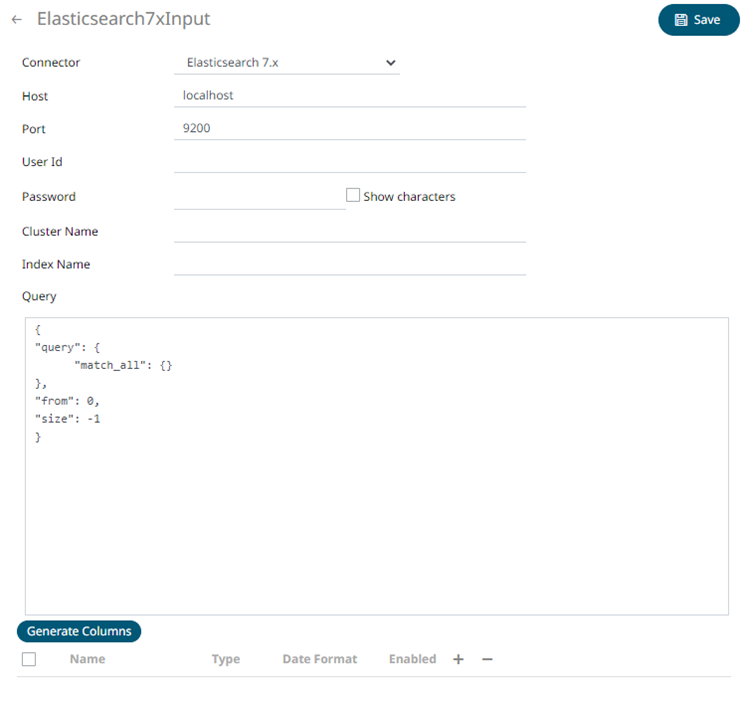 2.     Enter the following information:
| | |
| --- | --- |
| Property | Description |
| Host | The hostname of any node in your Elasticsearch cluster, or localhost for a node on your local machine. |
| Port | The port running the Elasticsearch HTTP service (default is 9300). If the port you wish to use is different from the default port, change the value to the correct one. |
| Cluster Name | The cluster name that can be used to discover and auto-join nodes. |
| Index Name | The Index name in Elasticsearch. This is some type of data organization mechanism that allows partition of data in a certain way. |
3.     Enter an optional JSON-encoded request body in the Query box.
4.     Click

. The columns populate the Output Column section.
5.     Click  

 to add columns and specify their properties:
| | |
| --- | --- |
| Property | Description |
| Name | The column name of the source schema. |
| Type | The data type of the column. Can be a Text, Numeric, or Time. |
| Date Format | The format when the data type is Time. |
| Enabled | Determines whether the message field should be processed. |
To delete a column, check its   or all the column entries, check the topmost  , then click  .
4.     Click
. The new data source is added in the Data Sources panel.