Setting the Server Metrics Publisher
The server performance metrics can be used to report, monitor, and configure the server's health and limits. The collected metrics may include the following information:
q  Long polling, WebSocket, and total number of connections
q  CPU loading percentage
q  Maximum, size, and used Heap Bytes
q  Subscription alerts, users, and total
q  Number of parallel data loading and live threads
q  Average data load time or refresh rate
On the Metrics section of the System Settings page, select the Publisher of the server performance metrics.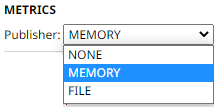 | | |
| --- | --- |
| Metrics Publisher | Description |
| None | No metrics are published. |
| Memory | Metrics are published to a queue in memory. |
| File | Metrics are published to a file on disk located in the AppData/Metrics/  folder (i.e., c:\streamsserverdata\Metrics). |
To add other Kafka publishers in the drop-down list, ensure their configuration file are available in the AppData/Metrics/Config  folder.
A configuration file can be generated by creating a new data source in Panopticon Streams Server and selecting any of the Output connectors. You can either:
q  export the JSON file from the repository, or
q  download the DSM file by right-clicking the Data Source and clicking Download on the context menu
For example, when the generated Kafka data sources are added in the AppData/Metrics/Config  folder:

The ID of the new configuration files are displayed in the Publisher drop-down list.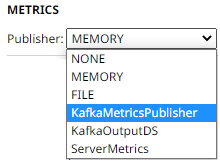 Selecting any of these specific Kafka data sources means that this is only place where metrics will be published to.