Visualization Filtering
Visualizations themselves can be used as filters by selecting items, and right-clicking to display the context menu with these three options: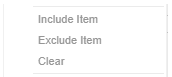 q  Include Item filters the dashboard to include the selected items.
q  Exclude Item filters the dashboard to exclude the selected items.
q  Clear removes any visualization filters.
   NOTE

In the Web client, the Include Item and Exclude Item options are disabled when there is no breakdown or the root is selected in visualizations.

 
For time series visualizations, an additional option is available.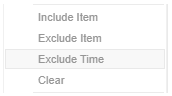 Exclude Time filters all the series to exclude the time point/s.
When a visualization filter is applied, filter icons appear at the left of the filter column title
 and on the
 toolbar of the dashboard. Clicking

 or
 will remove the filter.
Also, Show Active Filters
 icon displays on the toolbar. This allows viewing of all the active filters on the dashboard and its visualizations.