Creating a New Application
A user with a Designer role can create new applications to folders or subfolders to which they have permission.
Steps:
1.     On the Applications tab:
·         click
 on the toolbar
·         right-click on a folder or subfolder and select New Application.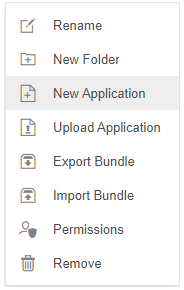 The New Application dialog displays.

2.     Enter the Name of the application and click

.
The Application page displays with the following sections. Initially, the Operator Settings pane is displayed.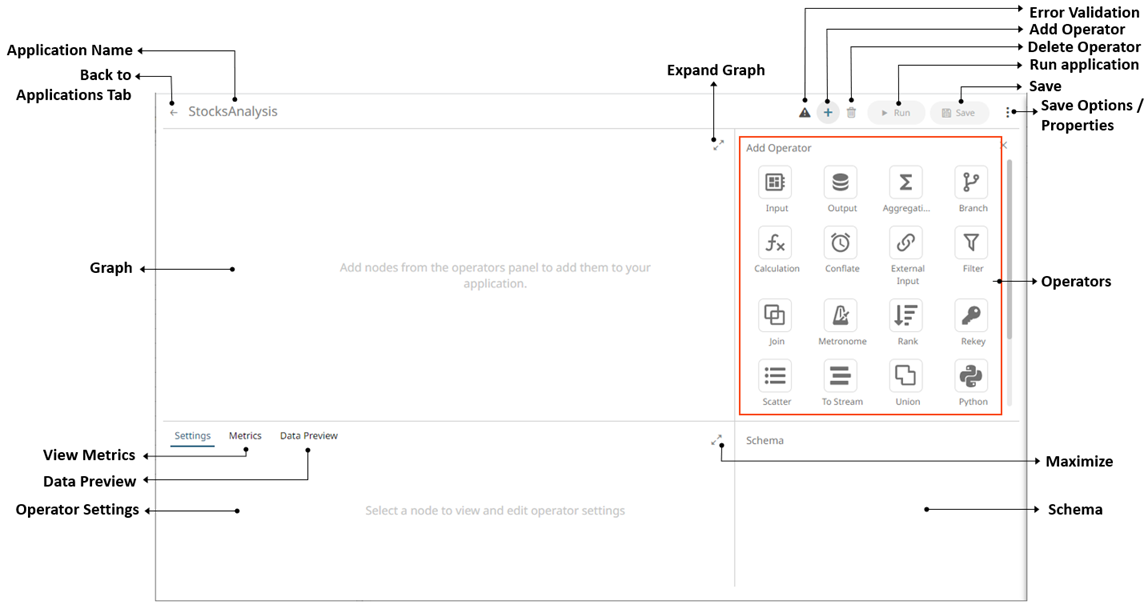 Clicking the Metrics tab displays the Metrics pane:

Clicking the Data Preview tab displays the Data Preview pane.  Note that you need to save and  run the application to preview the data.
Section/Panel

Description

Application Name

Name of the application. Click the  button to go back to the Applications listing page.

Expand Graph

Expands the Graph panel.

Error Validation

After saving the changes in the application, this allows error validation. If there are definition issues (red node) or if there is no traffic on the topic (yellow node), you can click  to help fix the errors.

If there are no issues,  is no longer displayed in the Application page.

Add Operator

When enabled , displays the Add Operator pane and allows operators to be added in the application. Click    to close the Add Operator pane.

Delete Operator

Deletes the selected operator.

Run Application

Runs or executes an application.

Save

Saves the changes made in the Application page.

Save Options and Properties

Allows saving of changes made in the application or saving another copy. The application properties are also displayed and allows adding new ones.

Graph

Display the nodes and edges of the application model. It allows single node selection.

Operators

Available operators that can be added in the application.

View Metrics

Displays the throughput of the selected nodes (total and current message rates) in the Metrics panel. When the application is running, the metrics data are refreshed.

Data Preview

Displays the retrieved query or table in the Data Preview panel.

Operator Settings

When an operator has been added or a node is selected in the application graph, the corresponding operator settings are displayed in the Operator Settings panel to allow editing.

When the application is running, the operator settings are displayed but are not editable.

Maximize

Expands the Operator Settings, Metrics, or Data Preview panel.

Schema

Displays the preview of the data.