OS-E: 0145 Nonlinear Analysis of Rack and Pinion using Restart
This example problem is of a rack and pinion mechanism, and showcases the restart capability available in OptiStruct.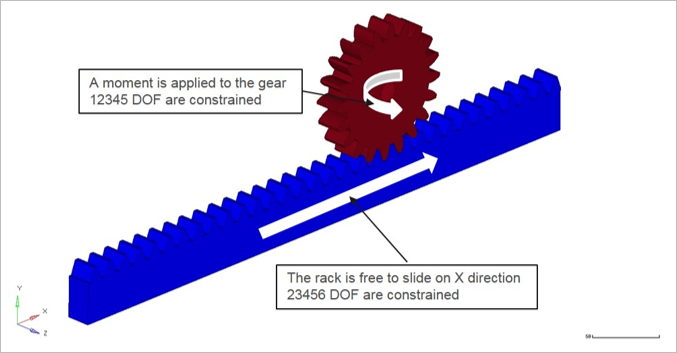 Model Files
Refer to Access the Model Files to download the required model file(s).
The model files used in this example include:
rack_pinion_write.fem

rack_pinion_read_increment.fem
Model Description
Nonlinear Quasi-Static (NLSTAT) subcase with Large Displacement (LGDISP) is used here to simulate the interaction between rack and pinion. Contact tracking is based on continuous sliding contact algorithm.
FE Model

Element Types

CHEXA
The linear material properties are:
MAT1

Young's Modulus

2.1E5 MPA

Poisson's Ratio

0.3

Density

7.85E-9
Results
The deformations are compared (
Figure 2
).